Zero to nyancat in 30 seconds flat
or Yeoman For Three.js
Why Using Yeoman ?
TOTALLY Optional :)
You can do the same without yeoman
Much Faster with it tho!
grunt for automating tasks
all done in javascript
kindof Makefile on steroid
Bower For Packaging
effort from twitter
package management: publish/search/install
similar to npm for node.js
Our Usage
easy to install three.js extensions
Yo For Scafolding
Our Usage
for three.js boilerplate
to start fast your three.js project
to start with the good practices you like
Installing yeoman
sudo npm install -g yo
Installing three.js Generator
usefull to install three.js boilerplate
sudo npm install -g generator-threejs-boilerplate
Project Directory
create it
mkdir yourthreejsproject
go in
cd yourthreejsproject
Generate Three.js Boilerplate
yo threejs-boilerplate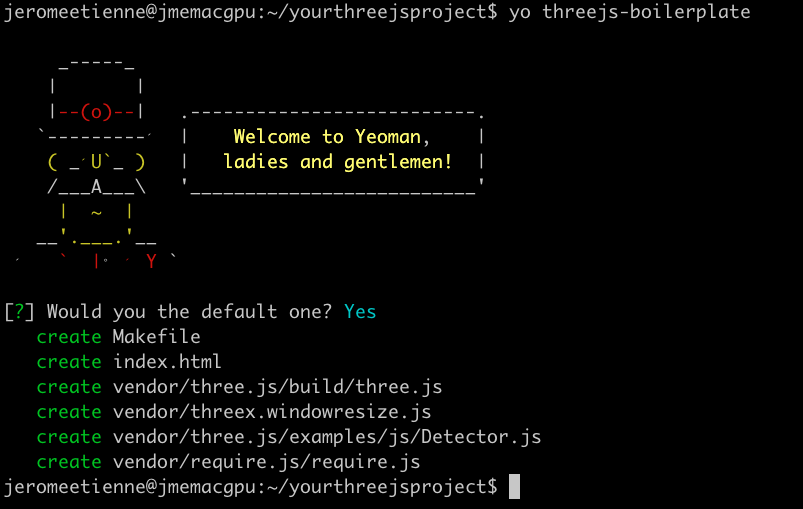 A Bit On Threex
threex and yeoman
All Optional
only there for convenience
free to use something else if you wish
Install It With Bower
bower install threex.nyancat

Now it is in bower_components/threex.nyancat/
Rather Easy...
Now Let's add Nyan Cat
Step 1 Include the script
<script src='bower_components/threex.nyancat/threex.nyancat.js'>
</script>

Step 2 Add some javascript
var nyanCat    = new THREEx.NyanCat()
nyanCat.container.scale.multiplyScalar(1/30)
scene.add( nyanCat.container )

Step 3 And now, the model is in the scene.
Well Almost.. Just The Tail :)
TADA!!
Generate Three.js Boilerplate
yo threejs-boilerplate
Install threex extension for three.js
bower install threex.nyancat
Simple Enougth :)